Relire les pensées du Dr Mohsen Hachtroudi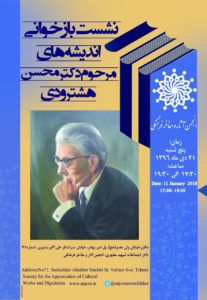 In the session of re-reading the thoughts of Prof. Mohsen Hachtroudi, which was held on Thursday, January 11, 2018 at the "cultural works and luminaries institute" Dr. Hassan Balkhari, President of the institute, Dr. Mohammad Baqer Nobakht, agency executive of "plan and budget organization" of Iran, Dr. Mehdi Mohaghegh, chairman of the Board of cultural works and luminaries institute, professor Seyed Abdullah Anvar, member of the scientific council of the institute, Prof. Jacques Dubucs, director of scientific research at the France ministry of science, Mogerdich Tumanian, head of the mathematics department of the academy of sciences, Dr. Fariba Hachtroudi, Mohsen Hachtroudi's daughter and Dr. Tofigh Sobhani, member of the scientific council of the institute speechified.

At the beginning of his speech in English, Dr. Mehdi Mohaghegh thanked the ambassador of France for his presence and said: "Dr. Hachtroudi had various aspects. First, he was from a religious family, and I also knew Hachtroudi's brother, who was an Arabic professor. Dr. Hachtroudi was explained many philosophical and mathematical issues to students. He knew old and new philosophy, and students were very interested in him because they could hear scientific issues from him in simple language.
Dr. Mohammad Baqer Nobakht said: "It's my pleasure to be here with you. When I heard that this tribute was going to take place, I made it a priority to get here. I followed religious figures and discourses in the 50s. (When I was student) One of these people was Dr. Shariati; He rejected professionalism. For us, students, Dr. Hachtroudi was a prominent figure with such a character. He believed that knowledge without sensation is worthless. On the other hand, I am here as a government member to say that Dr. Hachtroudi is one of the national treasures. Scientists and artists are the assets of a country. Although Dr. Hachtroudi is no longer with us, his thought and genius still affect us.

At the end of the session, Dr. Fariba Hachtroudi thanked all the audience and officials who help to hold this tribute and said: "My father always insisted on protecting and supporting the youth. He believed that they are the future of the world. In all of his speeches, Dr. Hachtroudi insisted that elders must serve the youth. If he (M.Hachtroudi) were here, he would talk about culture and literature, and maybe read poems by Baudelaire and Mallarmé. In my opinion, his most prominent characteristic was freedom and love for human beings, especially young people. At the end of her speech, Dr. F.H recited a poem by M.Hachtroudi in the name if "Shadows".
Résumé des conférences